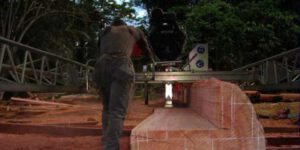 EcoPro® swinging blade sawmills are specially designed for tropical forests. Our numerous references in Gabon are there to attest to our sawmills' quality and reliability.
They allow log sawing up to 2 meters in diameter over a length of 6 m with a sawn surface quality that looks like planing results.
Easy to transport (a small lorry with a tipper is enough), it is set up on site by two operators in less than an hour.
We are EcoPro® mobile sawmills manufacturers and distributors. Our sawmills are developed by our engineers and manufactured in our workshops in Belgium.